How to download Twitter videos and Gifs in Android Mobile
If you have used Twitter before then you might have come across the video or gif tweets along with usual text or image tweets. Sometimes, we want to download and save the video or gif tweets, so that we can open them even off-line.
Talking about downloading the video or gif tweets from twitter, there's few options like you can download them using websites ( for example - twdownload) or through mobile apps that you can install from Google Playstore (Itunes in Apple).
For Android phone users the best option for downloading the twitter video/gif tweets is not through any app but website like Twdownload. Let's see, how to download the twitter video or Gif file. The procedure for downloading the gif and video tweets are same. The steps below will apply for both GIF and Video file.
Step 1: Go to twitter status and copy the url link
In first step, open the Twitter and copy the URL link of the video tweet that you want to download. Then open the website - Twdownload in your default Android browser like Chrome or any other browser of your choice (UC Browser, Opera, Firefox, etc)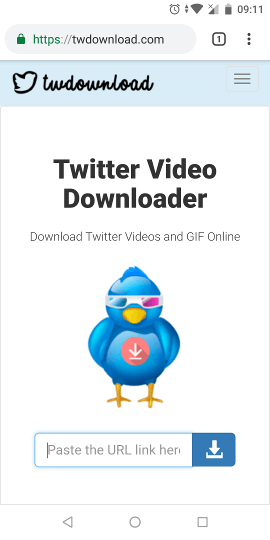 Step 2: Paste the link and hit download button
As you open the Twdownload, you can see the input field area. Just paste the twitter link there that you have already copied before and hit the download button. Make sure, you give the correct twitter URL into the input without any prefix spaces, otherwise it will return error.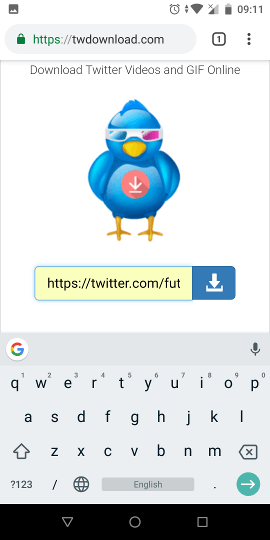 Step 3: Download link for Video/Gif extracted
After giving the correct twitter url, if you still get the error then that means the Twitter server is overloaded and you have to retry after few minutes. If everything works fine, then you are taken to the download page were download link is generated with different video sizes. Just click on the button with level "Download-link".
Step 4: Finally, save the video to Android
After you have clicked on the "download-link" button, the video will start playing automatically. To save the video, you have to click on the download icon button appearing on the bottom right of the player as given in the image below. That's it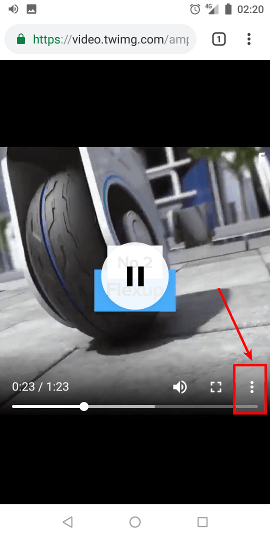 This is how you can easily download the Twitter video in Android mobile phone.